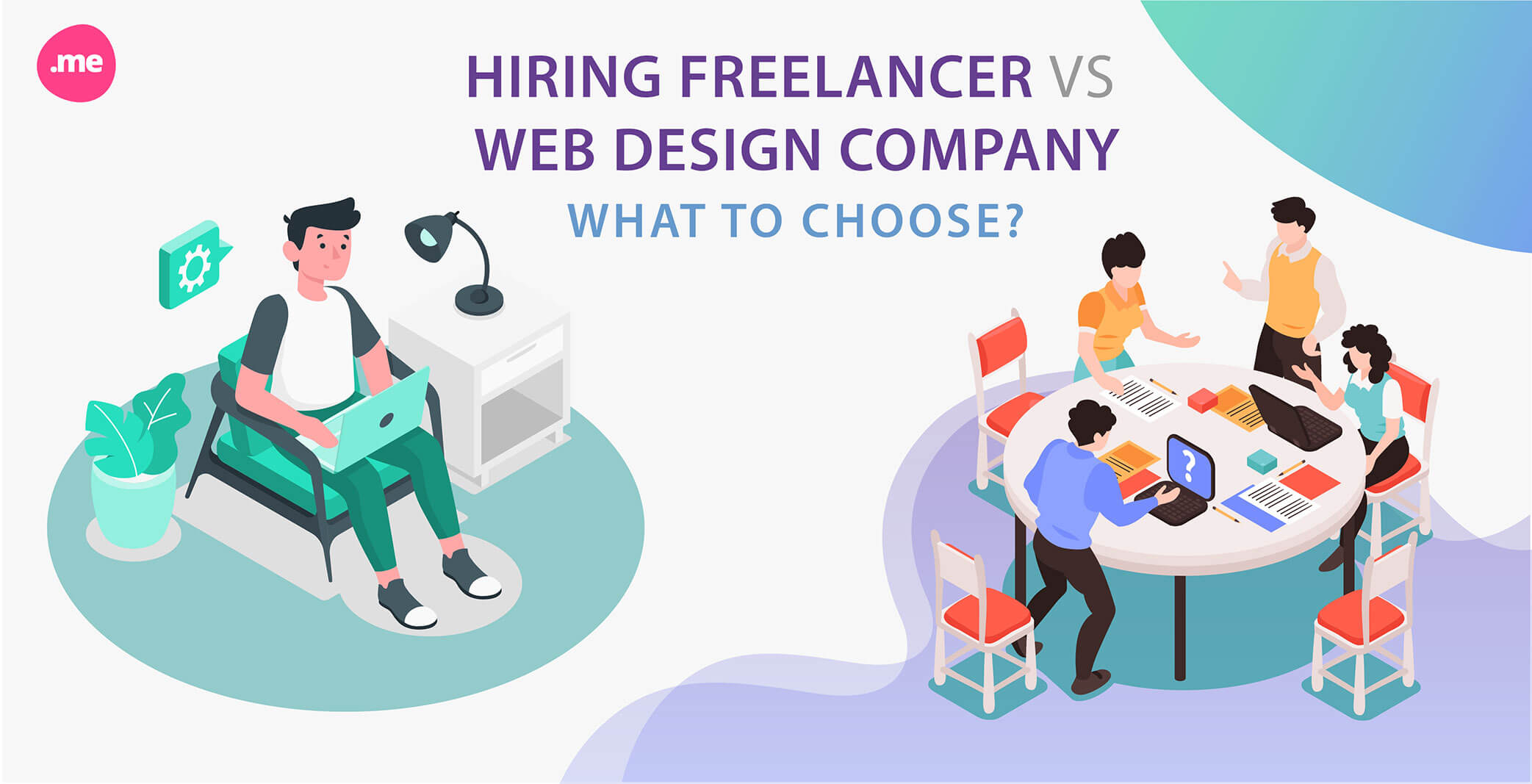 For any business, the website is often the first point of contact with a stakeholder, regardless of its industry or the scale of the operation. Just think about it for a moment. Whether it's a customer, potential employee, investor, or even a supplier, anyone interested in getting to know your company would turn to your website before anything else.
So, it's an important communication tool for a modern-day business, and having just another website is not good enough if you want to impress. And with the pandemic driving more and more companies online, there's even more pressure now to ensure that your website stands out from the rest. This is why getting it professionally designed is essential.
But for many businesses, this is an area that's out of their comfort zone. Developing a new website or even revamping an existing one is often a sizable project that may seem daunting with your regular responsibilities. And the technical jargon involved could be equally overwhelming. So, you need to ensure that it's handed over to the right individual or team. This is when you're faced with that important hiring decision—freelance website designer vs. web design company.
Needless to say, they both offer distinct benefits that could add significant value to your project. But which should you choose? Read on to find out.
What should you consider before hiring a web design partner?
Before you decide between a freelancer web designer and a web design company, there are a few essential things you need to consider.
#1 Project requirement
Understanding your specific project requirements is priority number one. Now, this may seem like a no-brainer to most people. But a surprising number of businesses still start their search for a web design partner without properly grasping their needs first. And the result? Countless revisions, miscommunications, escalating costs, constantly dragging deadlines, and severed relationships.
So, if you want to avoid all that, spend sufficient time to evaluate your business needs.
Start with the project objectives
What do you aim to achieve with your website? Will it simply provide business-related information such as management details and company news? Will it be a brand site for customers to find product and service information before visiting your store or office? Or will it serve as an ecommerce platform for customers to purchase your products?
Also consider the target audience. A corporate website should serve the needs of all key stakeholders. But a site dedicated to sales conversions will focus more on customers.
Understanding these distinctions will also help you determine the complexity of the site you require. Sometimes, what you really need could be a simple two-page website. But you might not recognize this unless you assess your business needs. And without doing that, you could end up wasting budgets on a complex site that looks impressive but doesn't add much value.
But in case your requirements are more complex, then you can explore those specific needs further. Consider whether you need a custom website design and, if so, what features will add value to your business. For example, with mobile devices driving more than half the web traffic today, a responsive design could be an essential feature to include. Ultimately, all these details will help you narrow down your unique project needs.
#2 Timeframe
Determining when you need the website up and running is critical to avoid disappointment later on. Sometimes, you could be willing to wait a couple of months. But often, a website could be business-critical, too. For example, when market dynamics change, your business needs to respond fast. And failing to do that could mean a lost opportunity or losing ground to the competition.
So, whether it's five days or five weeks, you need to be clear about your expectations and understand the business impact of not meeting them.
#3 Budget
How much you're willing and able to spend will be a deciding factor when choosing between a freelance website designer and a web design agency. It'll also determine the caliber of the individual or team you can afford and will help you understand what's viable and what's not. Most importantly, it'll allow you and your web designers to manage expectations from the outset so you can end up with the best possible outcome.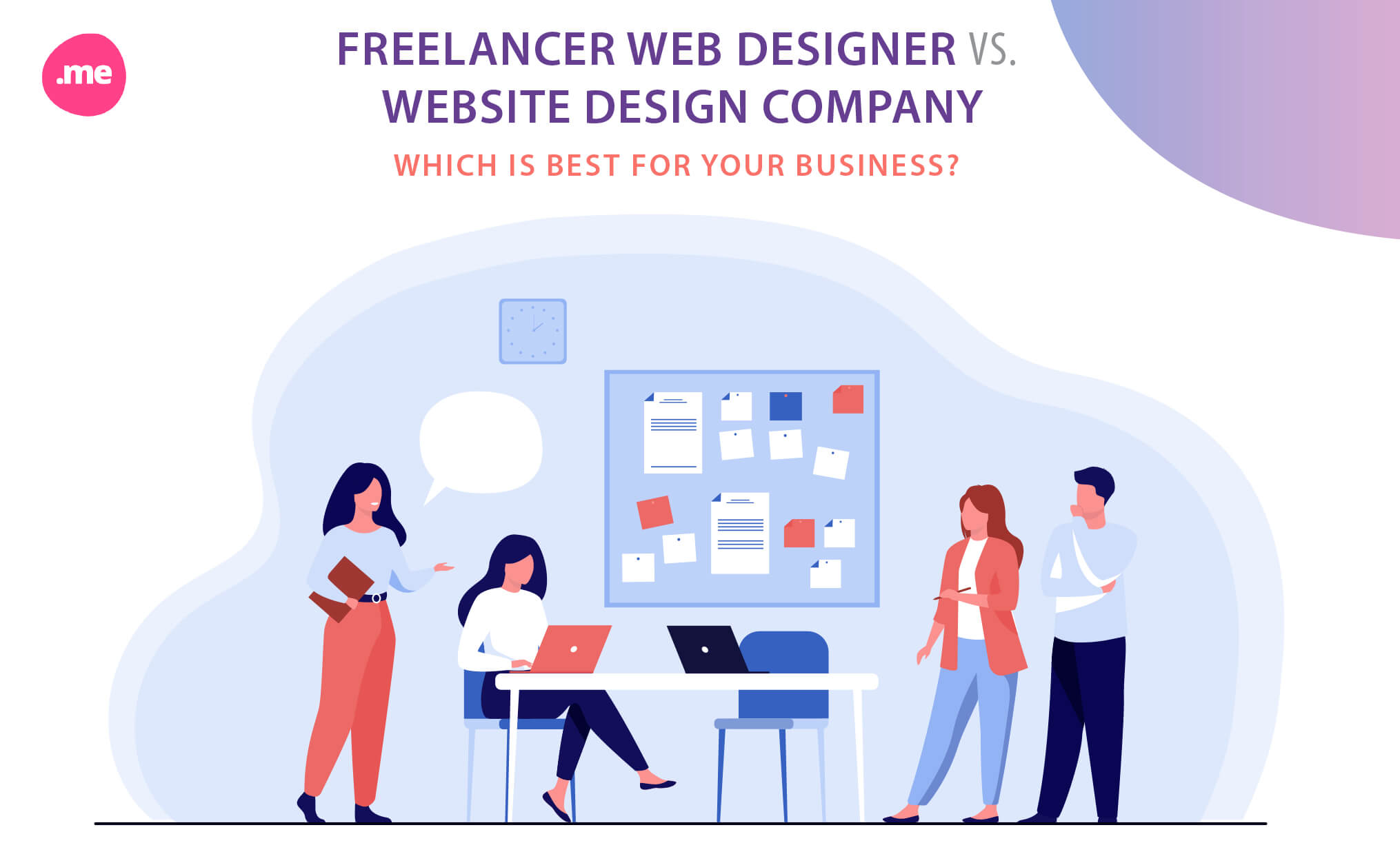 Freelancer Web Designer vs. Website Design Company: Which is best for your business?
An independent web designer and a website design agency can offer distinct advantages to a business. This makes it essential to understand why you should hire one over the other. So, let's take a look at what each of these options can bring to the table to serve your website needs.
Who is a freelance website designer, and how can they help your business?
These are highly skilled independent service providers who work on their own, usually from home. Their website design and development services can range from custom website designing to CMS development. And you can hire a web designer per hour or at a fixed fee, depending on your business needs.
So, what can they offer in terms of cost, service, expertise, and flexibility?
Cost
An independent web designer can often offer considerably lower rates compared to a web design agency. This is because freelancers have fewer overheads to cover. They work from home instead of a fancy office in a high-rise building. This eliminates exorbitant rents and utility bills. And since they have no employees, there are no monthly salary commitments either.
Service
For freelancers, keeping their customers happy is important to have a regular flow of income. So, they'll go out of their way to deliver your project, even if it means working a few extra hours. They'll spend more time to understand your business requirements and goals. And they will often display a higher level of engagement and commitment. But a web design agency will usually find it hard to match that level of service with their structured work procedures.
And their strict communication processes mean you only get to speak to a project manager. This could leave room for miscommunications and misunderstandings as they convey your needs to the technical team developing the site. But when you're working with a freelancer, you get to liaise directly with the person responsible for designing your website. This will provide greater comfort and assurance, not to mention a more personalized service.
Expertise
In the old days, freelancers had far less expertise compared to established agencies. But times have changed, and so have talent. Today, freelance website designers are often skilled in multiple domains and have extensive experience across a range of industries. This has been made possible by the countless opportunities that emerged with the internet. It has broken down geographic barriers, allowing freelance professionals to work with a global client base. It has also enabled them to learn much faster and gain access to a vast knowledge base that was earlier limited to a few.
Flexibility
Freelancers are their own boss. So they tend to be far more flexible than web design companies when it comes to work terms and arrangements. For example, if you want to build on an existing WordPress theme, a freelancer will happily accommodate your request. But an agency might only prefer to take up larger custom web design projects. And freelancers work on their own schedule. So, if you need to speed up a specific task, they will work overnight to accommodate that, too. And if you want to get more involved, they will be happy to let you, whereas an agency might not appreciate it so much.
Best of all, choosing a freelancer means you get the flexibility to hand-pick your very own website designer. But when you hire an agency, you'll have to work with whoever they assign to your project.
Looking for web designer freelance?
The easiest way to find a web designer freelance is through a platform like Upwork, Guru, Freelancer, and 99designs. The best freelance design websites attract some of the best global talent available. This is because they feature hundreds and thousands of freelance web design projects from clients all over the world. Just click on the "freelance web designer needed" tab on Freelancer.com and you'll find nearly 400,000 jobs posted on an average day. So, in return, these sites attract hundreds and thousands of talent offering their services at different price categories. This makes them an excellent option to find a professional designer, although shortlisting could be a challenge because of the high number of applicants.
Now, there are several factors to consider when selecting an independent web designer. Start with their work portfolio. It'll provide important insights into their experience, expertise, and clients. The best freelance web designers will have broad experience, having worked with different industries.
Specific domain expertise is equally important. For example, if you're planning on using Wix, then you need a freelance Wix designer with plenty of experience building sites on the platform. And the best websites for freelance designers will have various features to highlight their best talent, from customer reviews to testimonials.
But in addition to these sites, you can also browse LinkedIn profiles, post an ad on job sites, and use your professional networks. Alternatively, try a search engine like Google—just type in "freelance web designer near me" and hit the search button.
What is a web design company, and should you hire one?
These companies provide web design services with a pool of talent organized into different areas of expertise, from web strategists and designers to project managers. Web design companies can range from small- to large-sized businesses, depending on the scale of their operation. Some companies organize themselves based on specific expertise, such as small business website design or corporate web design. And unlike in the old days, many of them are no longer limited to a local client base and often maintain an international presence.
And how do they fare in terms of cost, service, expertise, and flexibility?
Cost
What you pay will usually depend on the scale of the web design agency. Larger companies will charge much more than their smaller counterparts because of their higher cost base. And sometimes, smaller boutique agencies could also charge higher fees due to specific expertise.
Moreover, many of these companies use rate cards. So, they will not provide the same pricing flexibility offered by freelancers. And some larger agencies might only take up projects that are above a predetermined price level.
Service
You can usually expect a higher level of service from a smaller web design company than a larger one. But regardless of their size, they will often assign a project manager to coordinate work and communication between the client and their team. This could save you from the hassle of dealing with multiple people. However, it could also open up opportunities for miscommunication.
Expertise
These agencies claim an extensive portfolio of website design services. For example, they could even offer web content writing for a more hassle-free and end-to-end client experience. However, if you want to make the best out of your budget, then you're better off hiring freelance professionals for these types of specialized services.
And the best web design agencies have the financial capacity to invest in top talent and better resources. But keep in mind that all these come at a cost to the client.
And checking their past work will not necessarily guarantee you a similar quality output either. This is because the designers they employ tend to move frequently from one company to another. So, it's common to see changes in the quality and style of agency work output from time to time. In fact, this is one of the main reasons for clients to select freelancers over web design agencies. Work delivered by freelancers usually remains consistent, and will even improve, with time.
Flexibility
A web design and development company would often have strict work processes in place to streamline communication and workflows. These can help minimize errors and improve efficiency, especially when it comes to large-scale projects. However, they could also make it difficult for them to respond quickly to your requests. And sometimes, they could result in an unreasonably long time taken to complete simple tasks.
What's the best way to source a web design company?
You can find the best website design companies in your local area with a simple search on Google or LinkedIn. But if you're open to working with an international agency, posting an ad on a freelancer platform like Upwork and Guru would be an excellent option, too.
Work portfolios and credentials are the first things to check when shortlisting a web design agency. Larger companies will often have a more high-profile client portfolio, although this is not always an indication of quality and expertise. Some smaller- and mid-sized agencies are just as capable as their larger counterparts.
Then, don't forget to check the most recent work to ensure they're not sharing an outdated portfolio. Go into detail to assess their depth of knowledge and experience. Arrange a video call or an on-site meeting with not only their project manager but also the technical team who would deliver the work. This will help ensure that they understand your requirements while also allowing you to assess their service levels.
Also, check for any specific expertise that's important for your project. For example, if you're in search of an ecommerce website design company, then you need to ensure they have completed sufficient ecommerce projects within the last 12 months.
To recap
In the modern-day business environment, having a website with the right design and functionality is critical for a business to succeed. And your decision to hire a freelance website designer or a web design company will have a profound impact on the final outcome and its delivery.
But how do they compare? To put it simply, a freelancer can offer lower rates, greater work flexibility, and a more personalized service compared to a web design agency. And in the old days, they were the preferred choice for small- to mid-sized projects that are simpler in nature. However, today, high-caliber freelance designers come with a wide range of domain and industry expertise, making them equally capable of efficiently delivering projects of complex nature.
But before you settle for a freelance website designer or a web design company, spend sufficient time to assess and understand your requirements, deadlines, and budgets. This will help both you and the web designers to better meet your expectations with the best possible outcome.