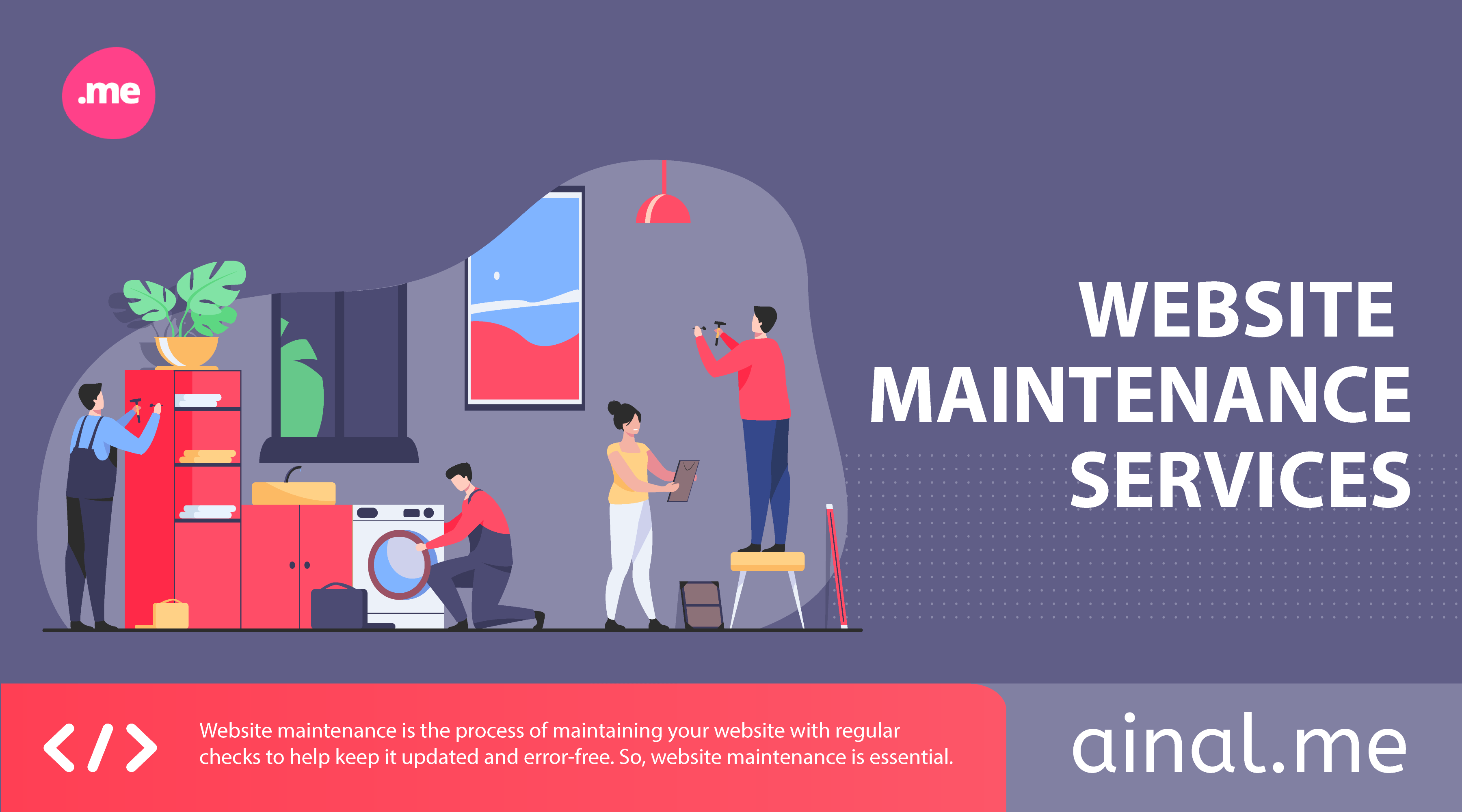 In today's technology-led marketplace, there's no question about how important a well-crafted website is for your business. This is why many companies allocate sizable budgets and time to get their website designed and developed by professionals.
But what happens once it goes live? Well, in the old days, the answer would have been "nothing". Many companies didn't revisit their website at least for another year until they decided it's time for a major revamp. But the role of a website is far more complex today.
The truth is, things really begin to unfold only when your website goes live. This is when customers start visiting and engaging with your content and the search engines begin to crawl and index your pages. To put it simply, it's when your website's ability to add value to your business is put to test.
But how well it serves your business needs will depend on how well you look after it. Businesses that understand this invest in regular website maintenance. And so should you, because failing to do so could have far-reaching consequences.
But what is website maintenance?
Website maintenance is the process of maintaining your website with regular checks to help keep it updated and error-free. And it can include checking the usability, aesthetics, as well as technical aspects of your site. For example, WordPress maintenance plans will include security checks, content updates, and backups, among other things. These could impact the site's overall performance, look and feel, and user experience.
It's a highly proactive approach that can help you avoid many of the drawbacks of a passive approach to addressing common website-related challenges. For example, web design and maintenance services can often help you rectify any site errors before or as soon as they emerge. This enables you to eliminate the many unseen costs of reactive maintenance, such as lost customers, sales, and opportunities.
And remember, website development and maintenance should go hand in hand. A website is an asset to your business in every sense. So, once it's designed and developed, it needs regular maintenance just like any other asset you have invested in, like your buildings and machinery. This is essential for it to serve your business needs at an optimal level.
How can regular website maintenance help your business?
Regular site maintenance can help you on multiple fronts to remain competitive and grow your business. Let's look at its advantages in more detail.
1. Boost SEO ranking
Search engines do everything possible to round up the freshest and the most relevant search results for their users. This ensures that users keep returning to their platforms and that ad revenue keeps rolling in. So their algorithms are geared to uncover and organize fresh, relevant content. And now and then, they introduce new updates to their algorithms to keep improving this process.
Now for businesses, this provides an opportunity to turn up when it really matters, ideally at the very top of those search results. But to make that happen, providing search engines with a constant supply of fresh, relevant content is essential. You need to give them more reasons to crawl your site. The easiest way to do that is by regularly updating existing content and adding new ones that are useful to your audience. And when more of your pages get indexed, your chances of turning up in search results improve as well.
But it doesn't stop there. Regular web maintenance can help boost your SEO ranking in other ways too. Take, for example, loading time. The loss in revenue to businesses because of a slow loading website is estimated at $2.6 billion. And according to Kissmetrics, taking more than 3 seconds to load could mean losing as many as 40% of site visitors. And when there's such a high bounce rate, chances of ranking in search results quickly begin to disappear. But periodic site maintenance can help sort this out.
The bottom line is, your website plays a central role in your SEO strategy. And keeping an outdated website with worn-out content and painfully long loading times will not help your business in any way. So, ongoing website maintenance should be an essential part of your SEO initiatives.
2. Strengthen site security
Neglecting site security could be detrimental to your business. With a hacking attack taking place every 39 seconds, it's something you just can't afford to let slip. Cybercriminals are constantly scanning for security vulnerabilities. And websites using outdated software and old technologies become common targets for their malicious attacks.
And the result? The estimated cost of a data breach is around $3.9million for small- to medium-sized businesses and $116 million for listed companies. And the direct costs could include compensation, costs of repairing equipment, and ransom money paid to hackers. But the indirect cost could be even more devastating. A customer data breach, for example, could result in stakeholders losing faith in your business. And regaining that lost credibility and reputation could take years.
But a regular maintenance plan can help bolster your site security. For instance, WordPress site maintenance services can ensure that all WP-related plugins and other software are updated with the latest security patches as soon as they are released. And the latest bug fixes in these updates can also help improve your site's overall performance. And in the event of an attack, your chances of quickly getting your website up and running can significantly improve when you have maintained it with regular checkups.
3. Keep your customers engaged
According to studies, 70-80% of people research a business online before visiting or purchasing a product. Now, that's an eye-opening statistic by any standard. But it doesn't exactly come as a surprise either, especially considering how deeply ingrained technology has become in modern-day life. This makes it even more important for companies to invest in their websites to improve engagement with customers.
Now a stale website with outdated content will not help you achieve this. It needs regular website maintenance services to keep it looking fresh and interesting. It should have plenty of new content to greet your audience each time they visit your website. And the user experience must also support how they interact and engage with your content. Studies show that as many as 89% of customers will go to a competitor when they encounter a poor user experience.
And often, what drives customers away are simple glitches that could have been easily rectified had there been periodic website checks. Take, for example, duplicate content and broken links. These are common issues that could crop up with any website when content is updated without a clear maintenance plan. But for the user, they can be irritating and confusing. And this could be enough to drive them away in search of a better user experience elsewhere.
Also remember, customer needs and behaviors inevitably change with time. So, your website should evolve to cater to them. If you do it right, your customers will keep returning. And when your customers keep coming back and spend more time on your website, search engines like Google will favor you more as well. The good news is, a regular web maintenance plan can take care of all these effortlessly.
4. Backup your website to prevent data loss
Data is one of your most important assets, and you need to protect them the same way you would protect your tangible assets. And when you have a live website, it could involve a significant amount of data. But these are not just limited to confidential information like customer details. The content you have created by spending long hours and investing a sizable amount of your marketing budget is equally important.
And you can lose these data due to various reasons. For example, malware infections could lead to data corruption or an employee could end up deleting a few pages by mistake. But whether it's a malicious attack or simple human error, the business impact could mean wasted time, resources, and budgets. Sometimes, it may even mean re-building your site from scratch. And that is a scenario any business would want to avoid at any cost.
But when you have site backups, restoring your website becomes easier, more efficient, and less expensive. This will help you minimize downtime and continue to serve your customers without much disruption to service.
And site backups are an essential part of website maintenance and support services. These will cover all the essential components that make up your website, such as code files, databases, themes, and plugins. So in case a crisis hits, you have the assurance of a fallback option.
5. Manage your company image
Your website's role is not just limited to disseminating information and being a key vehicle for your SEO efforts. It's also an essential part of your brand building strategy. For marketers, a website must represent the company's brand identity. That's why they go to great lengths to ensure its design reflects the brand personality and its content conveys the brand voice.
The bottom line is, your website represents your company, its values, beliefs, desires, and aspirations. And having an outdated site is not going to reflect well on your business.
So, keeping the overall design of your website updated is essential for your company image. This is even more important in a context where web design trends evolve with time. For example, when oversized design elements and animations become all the hype, your website should quickly adapt to keep up with these changing trends.
And an appealing website design has distinct functional benefits too. According to research, 94% of first impressions are design-related. And 52% of users point out aesthetics as the number one reason for not returning to a website. This makes it all the more important to regularly update your website's look and feel, keeping in line with changing consumer preferences.
6. Ensure content is up-to-date and relevant
A business does not remain constant over time, so neither should your website content. And similar to a website's design aesthetics, content should also remain relevant and up-to-date with frequent and proactive maintenance. After all, giving out stale company information will not serve any purpose for your business or your stakeholders.
And a website is no longer a passive communication channel that works in a silo. It should be an essential element of a holistic marketing strategy. So, whether you launch a new product, make a price revision, run a promotion, launch a new advertising campaign, or open a new store, your website should be part of the communication mix.
This will help build consistency across the company's various communication platforms so that a coherent message is conveyed at every touchpoint. Failing to do this could create doubt in your stakeholders and ultimately affect trust. Besides, it's a blatant waste of a company-owned content asset.
How often does your website need maintenance?
The ideal case scenario is of course daily and weekly maintenance. However, this depends on your website. For example, if you're updating web content daily, then you need a daily web maintenance schedule. But not all tasks require daily attention. For a site with regular content updates, checking for broken links, removing duplicate content, and running backups could come under weekly maintenance action. Renewing website domains and updating cornerstone content can be included under annually performed tasks.
The best website maintenance companies and freelance professionals will have expertise in all these essential maintenance activities. You can usually find different monthly website maintenance packages based on specific needs. For example, an eCommerce website maintenance services package could include updating products and images, on-page and off-page SEO, Amazon integration, and maintaining mailing lists, among other things. And a package for custom WordPress hosting and maintenance could cover areas like updating WP themes, plugins, and core files, monitoring custom codes, and speed optimization.
Finding a web maintenance expert
The easiest way to find a local expert is with a Google search for "website maintenance services near me". This will get you a list of both freelancers and companies located nearby. However, ensure that you check their credentials, reviews, and client lists and verify their level of expertise before enlisting their services.
Their monthly fee is another important criterion to consider. Website maintenance cost is a recurring expense, which to smaller companies may seem unaffordable at first glance. But many of these experts will offer several packages at different price points. For example, if you are looking for WordPress support and maintenance services, then you will likely find around 2-3 price tiers offering different solutions. This will allow you to opt for a more affordable WordPress website maintenance plan that fits your budget. Having said that, compromising on essential maintenance services to accommodate limited budgets is not a smart move either. In instances like these, opting for a skilled freelance professional will be the best option. These independent service providers can usually offer far better rates than a website maintenance company due to their low overhead costs.
To recap
Your company website is an important data asset for your business. And it needs regular attention, just like tangible assets. So, regular website maintenance is essential to keep it running like a well-oiled machine. It can help boost SEO rankings, strengthen site security, and effectively engage customers to ensure they keep coming back. A proactive maintenance plan can also help you avoid data loss with regular backups. And it will enable your website to become an important part of your brand building and marketing strategies.
Clearly, the business impact of a regularly maintained website doesn't need any more convincing. But it requires specific expertise. Besides, fixing broken links, running site backups, and optimizing for speed could be extremely time-consuming. So, you need the help of an expert. But if you are particularly concerned about cost and flexibility, hiring a freelance professional instead of a website maintenance company could be the best option for you.
So, if you don't have a maintenance plan for your website yet, it's time to set it up. The benefits it could offer your business will far outweigh the outcomes of a reactive maintenance approach. And in the long run, it could save you time, money, and a lot of heartaches.