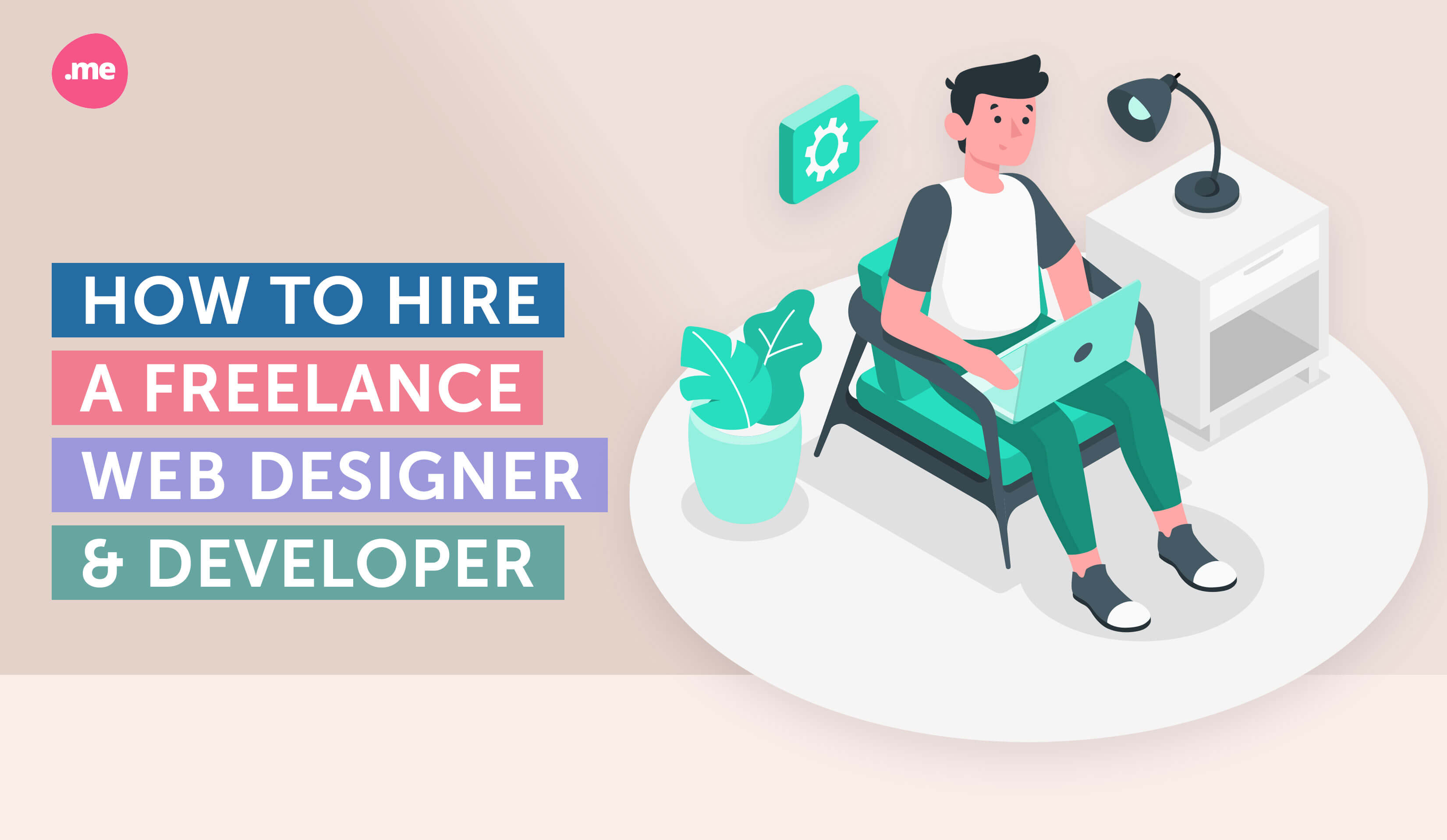 What Is a Freelance Web Developer?
A freelance web developer is an ideal amalgamation between a web developer and a freelancer. They are professionals who work on a contractual basis and design World Wide Web Applications for clients as per their vision. Freelance web developers have the freedom to work from home and opt for flexible hours. Their sole commitment is to deliver top-quality results within the deadline and ensure communication with the client on the progress of their work. The earnings of freelance web developers are not fixed, sans any monthly salary. However, they earn a hefty sum of money as per their tasks. The demarcating pillar of freelance web developers is the eradication of 'red-tapism,' as employers are in direct contact with their freelancers. So, now that we know the basics of a freelance web developer let us move ahead to more pressing questions.
Do You Need a Freelance Web Developer?
A robust online presence is imperative for any business in today's day and age. Thus, eventually, you will have to take the online route, which is when building a website comes into the scenario. Launching a decent website where you can communicate with your clients, clear their doubts, provide them with information, and facilitate a transaction is very important. You undoubtedly need a freelance web developer as they will meticulously design a website for you that looks cultured, refined, and usable. A World Wide Web page is crucial to incorporate a tint of professionalism into your business or startup. Thus, reliable freelance web developers are ideal if you want to design a website that is functional, optimized, and has a user-friendly interface.
How to Hire a Freelance Web Developer?
Hiring a freelance web developer can be a daunting endeavor, irrespective of your stint in the business realm. But, by looking out for specific skills and mandates, you can make the job easier. To begin with, all freelance web developers you decide to hire must have a grasp of front-end – HTML or HTML5, CSS or CSS3, and JavaScript. Likewise, they also need to be proficient in frameworks like React Native, Angular, etc. and should understand their differences. Similar to front-end skills, a reliable freelance web developer is dexterous in back-end technologies like Python, Ruby, PHP, and likewise.
Likewise, before hiring a freelance web developer for your website, you should be clear-headed in your approach and what you are looking for! Furthermore, it is vital to understand what languages and frameworks you need for your project to communicate them to your freelancer efficiently. Lastly, besides the hard skills of technology and coding, the freelance web designer you choose should be communicative, amenable, and in tune with your needs. Therefore, as soon as you choose the developer you want to work with, make sure that you explain your vision of the product and what kind of results you expect.
Why Increase the Value of Your Website Through a Freelance Web Developer?
By deciding to hire a reliable web developer on a freelance basis, you automatically increase your envisaged website's value. Your website is a living and breathing entity that will, most certainly, need regular maintenance, alterations, change of features, customizations, security checks, optimization, and likewise. Thus, having a freelancer by your side helps mitigate the untoward incidents and breakdowns that might bug your website after its completion. Likewise, a freelance web developer will ensure that your website is periodically refreshed so that your content is relevant to the audience. Furthermore, they will make it easy for your customers to find you online with accurate information and extend an easy user experience for them.
Build Your Blog or Website with a Freelance Web Developer and Stay Less Anxious
By building a website, you free yourself of several anxieties and worries associated with marketing, sales, and customer retention. A freelancer can assist you in this cathartic journey by meticulously building a website that speaks to you and for you. Some of the ways by which you can depend on freelance web developers to help you stay less anxious are –
24/7 Online Presence – One of the significant advantages of having a website designed by a freelancer is that your business is accessible to your customers. The spatial and temporal boundaries are eliminated when you have a well-thought-out website at your disposal.
24/7 Customer Support – Needless to say, providing customer support is a difficult task for any business, irrespective of its size and prowess. However, offering excellent customer support is easier and more cost-efficient than hiring personnel. As such, a freelance web developer can help you stay less anxious by ensuring that your business' website is accountable to the customers' queries at all times. The incorporation of FAQs, Chatbots, etc., are seamless mediums that facilitate 24/7 customer support.
Building Trust and Credibility – Customers nowadays expect businesses to have a website and a verifiable online presence. It is the crucial first step in establishing trust. Hence, by roping in a reliable freelance web developer, you can design a website with superlative features and navigation, which will compel our customers' to trust you even more.
Sales and Revenue – One of the biggest worries that you must be experiencing as a businessperson is related to sales and revenue. However, this challenge can also be tamed by taking the assistance of freelance web developers. The accessibility of your business inflates exponentially with a website as it can be accessed from any corner of the world. Consequently, there is no limit to your website's revenue that you can generate. All that is important is site optimization, something that a good freelance web developer will do for you.
Cost-effectiveness – Physical stores and advertisements like hoardings can burn a hole in your pocket. On the contrary, creating a website is easy and cost-effective. Moreover, the visibility of your business also shoots up through online marketing, and there is little to no expenditure involved.
How to Hire a Web Developer in Six Easy Steps
You can easily hire a reliable web developer with some effort and zeal. Let us look at the six steps that will make hiring a breeze for you.
Specify Your Business Challenges – The first step is to communicate your needs and wants to your freelancer and help them understand your vision. So, it is crucial that you also reach out to a web developer after doing some preliminary research and mind mapping.
Decide on Your Developer's Skills – Finding an all-rounder developer with competency in different languages and frameworks is as tricky as finding a needle in a haystack. So, understand your needs first, and then gauge the developer's skills. So, decide on a developer who is fluent in the coding requirements you are looking for!
Finding Necessary Specialists – The third step is to look out and build a team with the necessary skills. In addition to being a reliable freelance web developer, look for an experienced web designer, a content specialist, a project manager, and an SEO consultant to curate the team of your dreams.
Check out the Web Development Team's Expertise – After curating your dream team, the next step is to examine their expertise. To do so, you can have a one-on-one conversation with them, or you can also assign them menial tasks that will reflect their adeptness.
Select a Working Model – The fifth step is to gauge a working model for your website. Engage in vigorous conversations with your team to finalize the type of approach you want to inculcate for your business's website.
Determine the Payment Model – The culminating step is to choose a payment model and decide the deadline. After everything is agreed upon and laid out, your freelance web developing team can begin their work.
Why Is It Better to Use a Freelance Web Developer Instead of an Agency?
There are tangible advantages of hiring a freelance developer to design your website, vis-à-vis agencies. Let us look at some of the merits –
Flexibility – Web development agencies follow the traditional nine-to-five –Monday to Friday work schedules, which can be restrictive. On the other hand, a freelance web developer can work whatever hours you require and agree upon. Still, the only important thing is to establish prior communication and settlements with them. As such, the result is always positive as both parties are well informed. Therefore, flexibility coupled with speed is one of the greatest perquisites of hiring freelance web developers.
Affordability – By hiring a freelance developer, you can easily cover more benefits at affordable rates. Likewise, you also do not have to stress about vacations, leaves, and investing efforts in trains. Freelance web developers are accustomed to working independently. Furthermore, it is noteworthy to highlight that the majority of freelancers work from home, where there are little to no overhead costs. The amount you save on hiring a freelancer can often transfer to other elements of your project.
Communication – Web development agencies typically comprise an account section that you need to go through first to establish communication with the actual web designer. Having messages passed through multiple people before they reach the right person can slow your project's progress and create misunderstanding. Thus, you can quickly eliminate the 'kafkaesque' elements linked to web development agencies by opting for freelance web developers. As freelancers are their own boss, secretary, and accounts manager, you can directly talk to them and make the hiring process more efficient and crisp. One-on-one contact and lack of loopholes are two of the most significant upsides of freelancers.
Team of People – Another crucial advantage of opting for a freelance developer is that you can curate your own dream team. A web-developing agency will have its designers, content specialists, developers, etc., without any leeway for you to choose. Contrarily, by embarking on the freelancing route, you can put together the team of your dreams without much hassle.
Time Availability – Freelancers are famous for their adherence to deadlines. It would help if you remembered that agencies often deal with mega-corporations and web companies that will always be a priority to them. Thus, if a big client needs something done, your requirements will be on the sidelines. On the other hand, freelancers do not have multiple clients simultaneously, so you can rest assured that your work is prioritized.
Reliability – A freelance web developer thrives on reliability. If you hire a freelancer, they will answer every question and message of yours promptly. Likewise, any changes, comments, and suggestions can also be delivered in time. Most importantly, there is no hierarchy within a freelance setup, which further smoothens the burden of work. The reliability that freelance web developers offer is unrivaled, to say the least.
Cash Flow- Having a budget in mind is essential if you're going to design a website for your company. It's far easier to bargain with a freelance web developer than a full-service agency for reasonable costs. Freelancers also pledge to offer high-quality work at discounted rates. Thus, you can optimize your cash by hiring reliable freelancers whose services are always value for money.
Now that we have discussed at length the advantages of hiring freelance developers, let us look at the disadvantages of web development agencies –
Time Constraints – Depending on its size and resources, an agency might not be able to give you their full and undivided attention, as they are generally working with multiple clients.
Narrow Focus – A web development agency consists of personnel who are assigned a myriad of tasks. They are told to prioritize work as per the repute and monetary value of the client. Thus, in case an agency deals with big customers, there is a significant possibility that your work will get a narrow focus from the developers.
Lack of Flexibility- Developers working under an agency have a nine-to-five job profile that can hamper the deadline of your project. Likewise, they are unwilling to bend and provide extra hours for your work. So, the lack of flexibility is significant turbulence you can face if you opt for a web development agency against freelance web developers.
Cost – The price of a custom build website designed by professionals can get pricey as they allege the highest quality of expertise. Moreover, the rates may vary depending upon the agencies and the scope of your project.
Lack of Focus – As developers under an agency deal with multiple projects simultaneously, it is unsurprising that there is a lack of focus in their approach.
Communication – Erratic communication is one of the most significant hassles of opting for a web development agency. It isn't easy to establish direct communication with the developers when a whole line of paperwork is involved. Thus, the lack of communicative ease can hamper the progress of your project.
Five Ways a Freelance Developer Can Help You Build Trust through Your Website
When it comes to establishing trust through your website, it does not matter how compelling your calls to action are, how engaging your content is, or how quickly your pages load on mobile screens. If your visitors are even remotely icky about the credibility and honesty of your site, they will bounce right back and never come back. Thus, it is imperative to be cautious and make concerted efforts to build trust through a well-designed website. A reliable web developer who works on a freelance basis can assist you in creating a website that ensures customer trust, retention, and satisfaction.
Ethical Solutions – A freelance web developer will design your website, keeping in mind the ethics of the entire process. They will handle the carbon footprint of creating your website so that your sustainability score is high. As more and more people are inclined towards eco-sensitive mechanisms, an ethical approach to building your website is a sure-shot way to gain people's trust.
Appears Secure – An updated and optimized website with secure payment options, chatbots, and customer support solutions will instinctively build a feeling of reliability and trust among your visitors.
Legitimacy – Freelance web developers increase the legitimacy of your website by co-opting authentic images, testimonials, and resourceful content. Other elements like social media presence can also aid in the process and induce trust among your site visitors.
Consistency – By consistently updating, upgrading, and optimizing your website, freelance web developers make sure that your site can imbibe feelings of trust and dependability among the clients. Your clients will lose interest in your website without an updated feel, and your turnover might decrease.
Usability – By hiring competent freelance web developers, you ensure that your website has a user-friendly interface, is functional, and is easy to use. These three qualities will push your clientele to trust the website and make purchases without hesitation.
How to Evaluate the Quality of a Freelance Web Developer
Some of the ways to ensure the feasibility and expertise of your freelance web developing team are –
Technical Requirements – The first thing to do is ensure that your chosen freelancer is adept in all the mandatory technical skills for your project.
Response Time – It's a significant plus when you're able to contact a freelancer. If you need to make any last-minute adjustments, you'll have to wait a few days to see if they've been made. Before making a final decision, please communicate with your freelancer a few times and watch how long they take to react.
Communication Skills – Gauge out the overall communication skills of the freelancers you have decided on. You should consider if they are the kind of people who are willing to adapt and communicate, how lucid they are, and likewise.
Previous Projects – Getting a better knowledge of your freelance web developers' previous work will help you hire the right person.
Customer Rating – Several job portals often have customer feedback that you can check to understand how the previous clients of your freelancer perceive them. Read the comments as well as the overall rating to learn about the work ethic of a person, turnaround time, etc.
Experience – Experienced freelance web developers make fewer errors are faster, and cost less. Beginners, on the other hand, maybe less expensive but take longer to accomplish. So, you can decide based on your needs.
Paid Tests – After assembling a list of potential freelancers, ask them to take a paid test. You can assign all the potential candidates a small task that will prove their competency and adeptness. This is an excellent way to predict the behavior of freelancers and see if they are right for your project.
Frequently Asked Questions
Q1. How can a freelance web developer help modern businesses?
Ans. A freelance web developer can help modern businesses design top-quality websites at an affordable rate.
Q2. What is the job of a freelance web developer in the USA and Canada?
Ans. Freelance web developers in the USA and Canada help build websites for their clients.
Q3. How long does it take for a freelancer to complete a project?
Ans. The time that a freelancer might take to complete a project is subject to and depends on the project's scope and prospects and the client's requirements.
Q4. What is the cost of developing a website?
Ans. The average cost of building a website is USD 200, with a monthly maintenance charge of USD 50.
Q5. Which web CMS is the best for website designing?
Ans. WordPress is one of the best CMS for website designing, with a user rate of 42 percent.
Q6. What is the hourly rate of a freelance web developer?
Ans. The average hourly rate of a freelance web developer is USD 60 to 80.
Q7. Where do I find freelance web developers?
Ans. You can find freelance web developers near me through LinkedIn, Fiverr, and similar platforms.