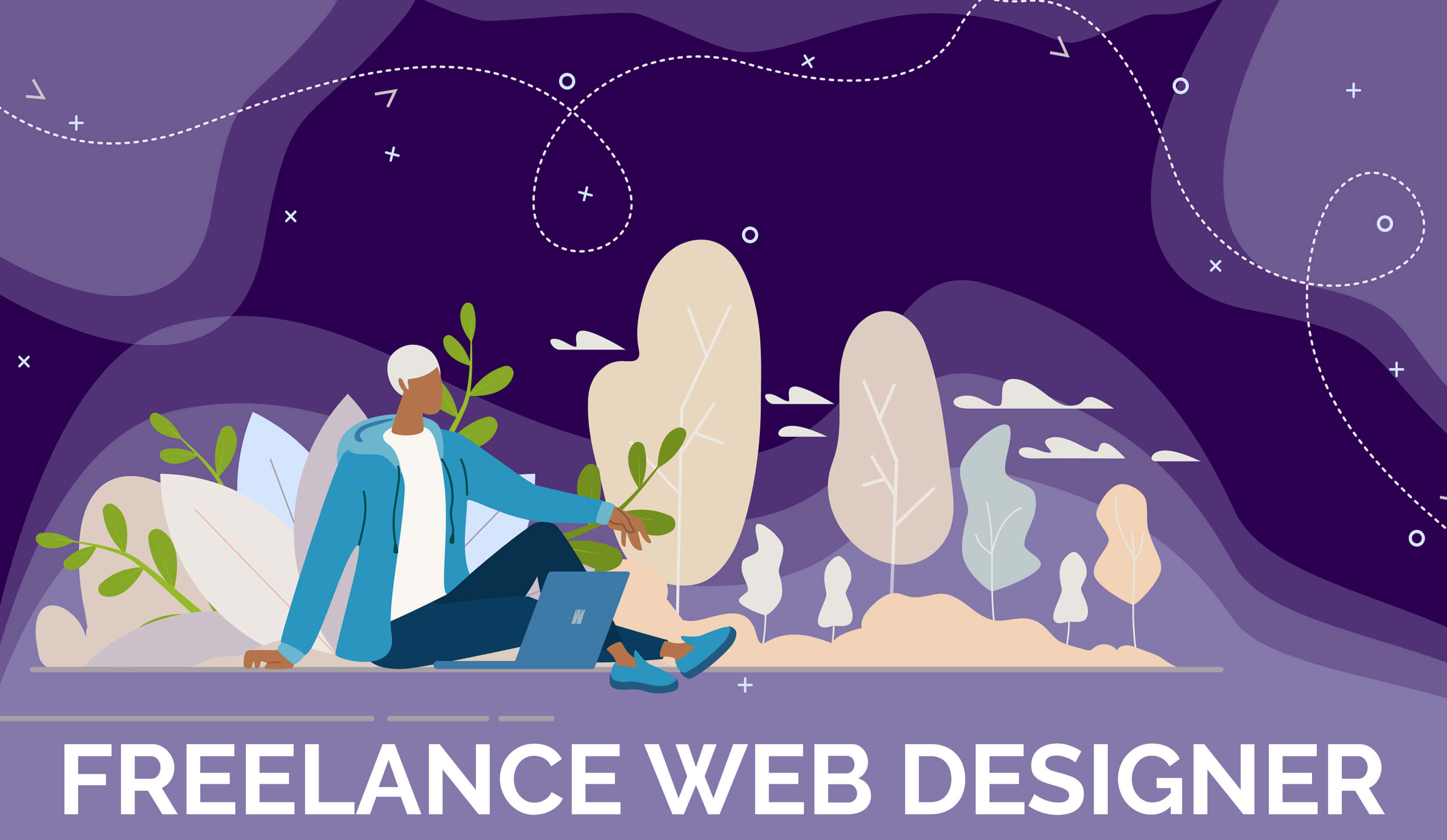 In life, there are typically two methods to do a task: one that is more difficult and one that is less difficult.
It's no different when it comes to finding the ideal freelance website designers or developers in the USA.
Finding and hiring freelance website developer in the USA to assist you might be difficult, particularly if this is your first time. Are you considering hiring a web designer or developer in the United States? We're here to provide you a complete picture before you spend a lot of time, money, and confidence in a web developer to build your valuable website.
Establish your Company's Needs with a Freelance Web Developer
In the hopes of gaining more exposure for yourself or your organization, putting a piece of yourself or your firm on the internet is a huge endeavour, and developing and maintaining a website is no different. It is in everyone's best interest to ensure that their websites offer the best possible first impression, especially given recent studies indicating that the quality of your website's design accounts for 75% of your online credibility.
To assume that the only way to create a beautiful website is to spend a little amount of money to a freelance web designer is to believe that you have no other choice. Moreover, in certain situations, this is clearly the most prudent course of action to take.
Why Choose a Freelance Web Developer Over a Web Firm?
Self-employed web designers are, most of the time, professional freelance web designers. They are not bound by an employment contract with a single firm, unlike designers who work for an agency. They are free to work for anybody they choose and engage directly with customers.
Because of the many advantages that freelancers provide, they are quickly becoming a popular alternative for many firms.
How to find the Best Freelance Web Developer in the USA
Now that you understand why you should engage a freelance website developer, the next step is to locate the best freelance web designers for your company.
Here are two methods for locating the best web design freelancer for your business.
1. Make a budget for the design of your website.
If you haven't already decided how much you're prepared to spend on web design, this should be the first thing you do while searching for a freelance web developer in the USA.
Because there is no such thing as industry standard price for how much a website should cost, you'll need to know your top limit. The amount of money you have impacts both the kind of web design you desire and where you will obtain it.
You'll have a better sense of what outcomes to anticipate and where you could go for design work after you've determined a rough budget.
2. Choose what kind of designer you want to hire
Web design is a tremendously crowded field. As a company owner or marketer, this is advantageous since you have a lot of space to choose the best match for your project.
How to Hire a Freelance Web Developer in the USA
Before you look for a US freelancer web developer to work with, you should have a clear idea of what you're looking for. This should always be the first step.
Do you need to change the photos on a website?
Do you need a whole new website?
Is there a mobile app for it?
Is there a problem with your analytics?
Do you need the creation of a new tool?
The answers to any of these questions will influence how you begin your search and who you employ in the end.
Now that you know what kind of project you're working on, it's time to consider the scope and how your freelancer will fit into the picture. You'll want to tell that particular someone precisely what you need when you discover them.
Is it two emails and five pages?
What exactly does the content of those pages entail?
Do you have a plan in mind?
Is there any dynamic content?
And, most importantly, when is it due?
Make sure you can clarify everything upfront before you begin the recruiting process. Don't rely on luck or assumptions, since we all know what happens when we do.
With all of this information in hand, you'll be able to determine the skill set you're looking for in a developer (we're not a one-size-fits-all solution) and guarantee that your project is finished on time and to your satisfaction.
Another significant advantage of scoping is that it will assist you in avoiding scope creep as your project advances. Scope creep is a problem. It's harmful to both you and the freelancer.
It's terrible for you since it'll cost you more money and (most likely) lead you to miss your deadline. It's negative for the freelancer since they were working on a set of criteria that has now been enlarged or blown out. It will also (likely) hinder them from commencing other projects on schedule, resulting in a financial loss.
Second, ask yourself: Do I need a web developer?
It's also worth noting that you may not need the services of a web developer.
You may utilize a CMS like WordPress if you need someone to assist you design a subdomain or a more specialized company site.
How to work with a Freelance Web Developer in the USA
You've located your designer. You're aware of what they're constructing. It's now time to put it all down on paper. Handshakes and verbal agreements are OK, but make sure you have everything in paper. This isn't to mean you'll be taken advantage of. You need a contract because you need to know what your scope, deliverables, and deadlines are. A contract also allows you to include check-ins, testing time, and a payment plan (which we'll discuss later).
It's also crucial to keep in mind that this is not a one-way street. Your freelancer will — and should — have a voice in the project's timing and scope. Keep in mind that you're employing them because they're an expert in a subject where you're lacking.
While I wouldn't recommend placing your faith in someone you've just met, you should accept their assessment of the problem and consider it as you plan your project and the function they'll play. If they tell you something isn't doable within a given period or provide you different possibilities for achieving your objectives, you should listen and weigh those options against your objectives.
Isn't this when the tough part begins? The cash! Freelancers often work on an hourly or project basis. The definitions are exactly what they say on the tin. You negotiate an hourly rate (Rate x Hours Worked = Pay) since hourly freelancers are paid for the time they work. Per project, freelancers operate on a per-project basis, which means you pay them an agreed-upon cost for the whole job.
There are two things to think about here:
What you pay for is what you get.
This isn't the time to cut corners. If you're attempting to save money, don't be shocked if the finished product falls short of your expectations or if the freelancer takes on a higher-paying assignment alongside yours. Put yourself in their shoes before you become irritated. You would expect to be appropriately compensated for your labor, and the freelancer does as well.
Be open and honest about your financial situation.
If you only have a limited amount of money, tell the freelancer and try if you can come to an agreement. Perhaps the scope will need to be adjusted, and perhaps the charge will be acceptable after all. You'll never know until you ask.
Make a payment plan, regardless of the payment arrangement you choose. This will ensure that everything stays on schedule. Different expectations will be held by freelancers. For some, the beginning and end of a project will be divided 50/50. Others will divide it into three (33%), four (25%), or five (25%) payments. Do not pay for your job in full before it is done and delivered, no matter what you agree to. It's time to go to work when you've reached an agreement.
The Advantages of working with a Freelance Web Developer in USA
1. Responsive Design:
Apart from laptops and PCs, the number of individuals utilizing iPads and mobile phones has surged in recent years. As a result, if your website isn't compatible with the most recent technology, it won't reach the widest possible audience. A skilled freelance web designer in USA can create a website that is compatible with a variety of devices.
2. Search Engine Optimized Webpages
Because of the increased competition, search engine optimization has become a necessary tool for all sorts of organizations. Your website might appear at the top of search engines if it is optimized. A competent site designer may easily do this for your business.
3. Dependable design:
It is just more trustworthy when a skilled freelance web designer designs a site. Imagine you created your own website and then ran into some problems that you didn't know how to solve. Solving them may take a significant amount of time and money. On the other hand, if you engage a web designer, you'll be less likely to run into such issues, and if they do arise, they'll be simple to resolve.
4. Faster website:
Nobody enjoys navigating a slow-loading website. It would not only bore your visitors, but it may also result in the loss of significant commercial prospects. You don't have to deal with any of that if you employ a skilled freelance web designer who can enhance your website's security and speed.
5. Saves Time:
One of the most compelling reasons to hire a freelance web designer is that you will save a significant amount of time, which is critical for your organization. Time, as they say, is money.
A designer, for example, may construct an appointment booking form, a contact form, or an online pricing system that eliminates the necessity for scheduling appointments over the phone. Small modifications like this might help your firm become more efficient and so generate more income.
7. Making it easy to use:
A competent freelance front-end developer in the USA can assist you in developing a website that is simple to use and navigate.
8. Greater Credibility:
A well-designed website has the ability to help your small business compete successfully with bigger corporations. They have the ability to present your small business as if it were a bigger one, giving it comparable legitimacy.
9. A unique design:
It's not simple for a website to stand out these days and have a creative and distinctive edge that sets it apart from its competition. A skilled site designer, on the other hand, may help you accomplish that by customizing graphics, text, photos, colors, and sliders.
10. Looks Trustworthy:
Visitors will deem your company trustworthy if it has a decent and professional website. They may even be willing to spend time and money on your business's goods or services.
11. You get various options for development:
A freelance web designer can provide you with a variety of solutions for improving the appearance of your current website. As a result, you will be less stressed while sharing and discussing ideas, and things will be more convenient.
12. An excellent first impression:
No matter how much you dispute it, initial impressions are really important. If you can't create a good first impression, you'll have a hard time having another opportunity to show yourself.
The same is true for your website; if it fails to produce an excellent first impression, the likelihood of a visitor returning to it drops. This has a significant influence on your company.
A competent freelance web designer, on the other hand, can produce a great first impression for your organization and help you build your business.
13. Helps you to stay up to date with trends:
Things change every day in the digital realm, whether it's site design, trends, or technologies. So, if you're not familiar with the sector and its complexities, you won't be aware of these developments.
Hiring a freelance web designer in the USA will provide you with insight into what's appealing and popular in the industry right now. It will enable you to reach out to a larger audience and attract more customers.
Why Freelance Web Developer is better than Web Development Companies in the USA.
Freelance Web Developer:
1. Pocket-friendly rates
As a start-up company, you're undoubtedly trying to keep your head above water. If you want to make the most of every dollar you have at your disposal, you must be prudent with your finances. However, you will want to retain a high degree of quality and professionalism throughout the process.
Choosing a professional freelance web designer in USA is the best choice if you want to achieve the best possible balance between quality and pricing.
These web designers are substantially less expensive than the ones employed by the firm. This is due to the fact that individuals may work from home and so avoid incurring the majority of the operational expenditures involved with maintaining a physical workplace.
2. Flexible work schedules
Freelance web designers are able to work from any location and at any time. This degree of adaptability may work to your advantage. –
Because they are not compelled to work exclusively during conventional working hours, they have the flexibility to change their work schedule to meet your deadlines if necessary.
3. A higher level of immediacy
The amount of money that a self-employed web designer takes home is determined by their own hard work.
Therefore, your freelance designer may be driven to complete your website project on schedule so that they may go on to the next assignment as quickly as they can after finishing current one.
A web designer working for an agency, on the other hand, may have less motivation to complete your assignment on time since they are paid on a set schedule.
4. More independent
Employing a freelance web designer eliminates the need to invest time and money on training, orientation, and other similar tasks that would be required if you were hiring new employees. Their responsibility is to arrive completely prepared with all of the essential knowledge and expertise to design and develop your website.
Independent contractors have the flexibility to perform without direct supervision as long as you communicate your expectations from the beginning of the project.
5. Express their opinions more frankly
When you engage a professional freelancer to design your website, you give them the flexibility to offer ideas on how to improve it.
In contrast to agency web designers, independent web designers are free to say what they want without fear of losing their employment.
6. A great deal of experience
Freelance web designers often get extensive expertise managing projects comparable to yours after working for a variety of customers. They know how to respond to a variety of requests and understand what the customer is saying without interrogating them excessively.
They can help you design a better-looking, versatile corporate website, providing you more value for your money, thanks to their extensive knowledge.
7. Ideal for small businesses
Larger projects are typically preferable to smaller ones for agencies or web design businesses since they are more lucrative. Freelance web designers, on the other hand, are more likely to accept work from small firms.
This is because, given their limited ability and resources, they believe such undertakings to be more manageable.
8. They strive to deliver satisfactory results
As freelance employment has grown in popularity, it has also become quite competitive.
A freelancer must provide something different from what other freelancers are giving in order to boost their chances of being hired. They must demonstrate that they have the necessary professional abilities to meet, if not exceed, customer expectations.
When given the opportunity to work with you, they will go above and beyond to guarantee that they get repeat and reference business.
Hire a web developer in 6 easy steps
Specify your business challenges
Decide on the developer's skills
Finding necessary specialists
Check out the web development team's expertise
Select a working model
Choose a payment model
Web Design Agencies:
A website development company is usually more costly than hiring a freelancer. Using a team-based firm is usually more costly than employing a single individual. However, you are truly engaging a well-managed and supervised team of professionals that provide professional outcomes.
Frequently Asked Questions (FAQ)
1. How a Freelance web developer can help modern business?
A web designer who works as a freelancer is more creative. Freelancers seek to keep up with the current web design trends in order to be competitive. They are always exploring and learning new things in order to effectively satisfy your project's needs.
2. What is the job of a freelance web developer in the USA?
Development, design, video editing, writing, and others, are all highly technical skills that your freelance website designer will perform for you.
3. How much time does it take for a freelance web developer to complete a project?
It takes time and effort to develop a website. Allow your freelancer to do the task for which you paid them. If you haven't heard anything in a while, it's OK to contact them, but now is a good opportunity to refer to the check-in schedule you included in your contract.
4. What is the cost of developing a website?
The price of creating a website isn't set in stone. It is a changeable figure that varies depending on the project's complexity, urgency, and scope. Our pricing may be found here.
5. Which web CMS are the best for website designing?
WordPress, Joomla, Drupal, Shopify, WooCommerce, Magento, BigCommerce, and Wix are the best CMS for website design. Whether to choose any of these depends on a number of aspects for website.
6. Where Do I Find Freelance Web Developer?
For freelance assistance, go to sites like Upwork, Fiverr, or Freelancer.com. You may look for developers based on their evaluations, geography, and skill set.